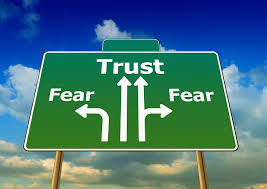 When there is trust, marketplaces work like a charm. When there is no trust, marketplaces crawl. So how do you establish trust in a marketplace?
Applying Stephen Covey's principles of trust
1. Talk straight
Let people know where you excel but also let people know what you don't do. People now have realistic expectations from you. Providers make their deliverables crystal clear. Don't withhold any information. Customers make their requests as specific as possible. Let there be no room for doubt.
2. Demonstrate Respect
Providers show respect in the marketplace by being kind and civil to customers they serve and customers they cannot. DO NOT fake respect for anyone or show respect ONLY for customers who plan to order from you.
3. Create Transparency
Be open and tell the truth in a way customers can verify. Use Linkedin to verify you. Let people see your endorsements and your recommendations so customers know how you operate. Get your company or background checked by a trusted source and display the badge attesting to your veritableness. Let there be no hidden agendas and no hidden objectives and no creating an illusion about what you can offer. As a customer, give the provider a micro task to establish credibility of the provider. As a provider, ask previous customers for testimonials or reviews.
4. Right Wrongs
Providers, when you mess up, don't try to hide the mistake, just make up and do what you can to make sure the customer comes back to you. For example: refund, provide a discount for the next time or a free service.
5. Show Loyalty
Show loyalty to your customers. Refrain from talking about them behind their backs. Be grateful for loyalty and reward your customers every now and then. Send them a gift card, waiver... Customers want to be recognized. Let them be your advocates, show off their trophies and spread the word for you.
6. Deliver Results
In the context of a marketplace, set expectations for your customers, define what you are delivering and deliver the results on time. Demonstrate responsibility and accountability.
DO NOT over promise and under deliver.
7. Get Better
In every transaction, let the customer see a small improvement. The customer needs to know you are constantly learning and improving your processes, that you have taken steps to rectify mistakes in the past. A good metric will be continuously improving reviews or a steady increase in the number of good reviews.
8. Confront Reality
Take the bull by the horn, solve the tough issues by involving the customers. Engage their creativity and problem solving abilities. Team up with the customer, collaborate and create new solutions. Use a good feedback mechanism like reviews to find areas of improvement.
9. Clarify Expectations
Nail down all the specifics of the desired results. When expectations are not clear and both sides don't have a shared vision, trust is broken when unnamed expectations are not met. When the requirements are unclear, clarify, clarify and clarify.
10. Practice Accountability
Hold customers accountable and hold providers accountable too. When both sides endeavor to meet the standards or expectations that have been set, the marketplace works like a charm. When either side is not held accountable, there will be finger pointing that could have easily been avoided in the first place. Training for the providers is a good way to do this.
11. Listen First
As a provider, listen to your customer. Make sure you understand your customer and you can outline a shared outcome based on this understanding.
12. Keep Commitments
Deliver results as per expectations that have been clarified upfront. Do it consistently to build trust with the customer.
13. Extend Trust
People do well when trusted. Be specific about your requests, empower the providers with trust and they will live up to your trust.
Create a trustworthy marketplace and may you triumph over the odds.
Usha Kizhakekara
Founder at Wanteet, Inc - create your marketplace in minutes